The Screen Challenge: Youth, Social Media and Safety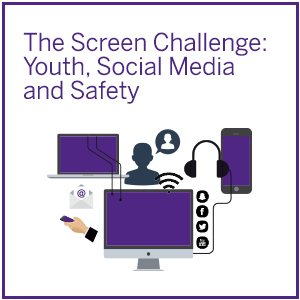 This presentation is currently unavailable.
A 60-minute face-to-face or virtual presentation for parents of elementary and secondary age children and youth to help address current issues associated with youth engaged in social media. Teachers are also welcome to attend.
This presentation can be customized to include any of these related topics:
- Cyber Bullying
- Sexting
- Self Esteem
- Sleep
- Addiction
- Mental Health
General safety tips related to technology use and staying safe online are provided to help parents and educators to start conversations with youth around social media. Also, the presentation addresses the signs to look for that indicate there may be a problem.
This engaging presentation includes up-to-date statistics and current popular social media apps.
We all have the same goal in mind – the health, well-being, and safety of our children. Connect with your local school or community youth groups to arrange a live presentation in your area. 
Need to contact us? Centre for School Mental Health.
Email: csmh@uwo.ca
Phone: 519-858-5154 
---
Cost for Presentation:
Within Thames Valley District School Board and London District Catholic School Board: $850 plus mileage ($0.59/km)


Ontario - other school boards: please contact us for pricing.
Saskatoon: please contact us for pricing
Note: Only these areas are available for presentations at this time. For all other inquiries, please contact us
Promoting the Presentation within your school or community group
Interested in booking a presentation? Please fill out the form below: