Moving in new directions: Healthy Relationships Plus Program Training held in Panama City, Panama
By: Nicole Bullock, Communications Coordinator
Monday, March 11, 2019

The Visit Panama City sign
It was an exciting month of February for the Fourth R and Centre for School Mental Health. Fourth R Master Trainers Toni Wilson and Sherry Shore-Muñoz traveled to Central America where they trained a group of psychologists and social workers in the Healthy Relationships Plus Program (HRPP) on February 27 and 28, 2019.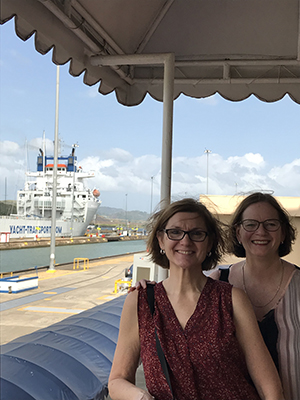 The newly trained professionals will be implementing the program in two different public school districts in Panama City, Panama as a pilot project. The intention following the pilot is to expand the program implementation into more schools in the next few years.
It was the first time HRPP has been delivered in Spanish and participants were very receptive to the evidence-informed program. Not only were they enthusiastic about the interactive nature of the program, but they were also fully engaged in the teaching and learning strategies and skills practice.
"Organizers of the project were very pleased with feedback provided by the participants and indicated to us that HRPP was everything they were hoping for.  The psychologists and social workers are looking forward to implementing it with their students." - Sherry Shore-Muñoz
The training initiative was funded and supported by United Way Panama and is part of a larger-scale project to support youth in Panama.
Toni and Sherry also had the opportunity to explore Panama City prior to the two day training, "Visiting Panama City was a great experience, and seeing the Panama Canal was a highlight indeed.  It is such a feat of human ingenuity.  We saw several ships go from the Pacific to the Atlantic and couldn't help but be amazed." - Toni Wilson
Interested in learning more about the Fourth R and HRPP? Check out the Fourth R whiteboard video in Spanish! Click here to view now.